Smart Health Card is launching very soon at Bafakhy Thangal Trust

About us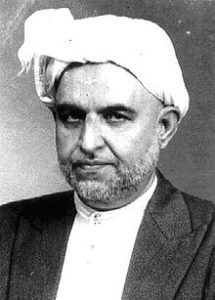 Sayed Abdul Rehman Bafakhy Thangal (1906-1973), popularly known as Bafakhy Thangal was one of the founder leaders of Indian Union Muslim League and the Leader of Samastha Kerala Jam'iyyathul Ulama. He was a legendary leader who imprinted indelible marks on the history of India and the muslim community.
Bafakhy Thangal was born at Koyilandy (Kozhikode District, Kerala, India) Puthiya Maliyekkal house as the son of Sayed Abdul Qadir Bafakhy Thangal and Fathima Mulla Beevi on 19 February 1906. Bafakhy Thangal died on Friday 19 January 1973 in Mecca, Saudi Arabia.
His debut to active politics was in the year 1936 during the election to Madras Province Legislative Assembly (1937). He single-handedly managed to see his brother-in-law Khan Bahadur P.M. Attakoya Thangal got elected from Kurumbranad constituency with a comfortable margin. But soon after he joined Muslim League and became one of the top leaders within a short span of time. Since he was venerated by the common folk, he was a mass leader having extra ordinary rapport with leaders, ulamas and followers.
Under the leadership of Bafakhy Thangal, Muslim League became a mass-based party. The partition of the country in 1947 and its aftermaths did not disturb the Kerala milieu due to the sagacity of Bafakhy Thangal and his colleagues. He was in forefront to keep the party active and he became the president of Malabar District Muslim League in 1948. When Kerala state was formed in 1956, he was unanimously elected as President of Kerala State Muslim League, a post which he held till his demise in 1973.
Communal harmony was the main theme of politics of Bafakhy Thangal. He rushed to places where communal flare-ups occurred and strained every nerve to maintain peace. His words and deeds never hurted anybody's sentiments. He was a peace maker always.
He masterminded an era of coalition politics which later became the national trend. Any one who studies politics of India will eventually mark the role of Bafakhy Thangal in making coalitions workable on minimum programmes. He made his party to co-operate with other parties and he led his party to share power in Kerala. When Indian Union Muslim League won five seats in Malabar in the first general election to Madras Legislative Assembly in 1952 and a lone member from Malappuram to Loksabha, it was made possible by the untiring campaigning of Bafakhy Thangal. The first time the alliance was with Praja Socialist Party, then, with Congress, later with left parties and last with Congress.
Bafakhy Thangal had a vision of value based education both secular and theological. He was a visionary who gave importance to propogation of education. He gave scholarships to students out of his own pocket. The flourishing Muslim Community of Kerala has been indebted to the Madrassa Movement of early fiftees of which Bafakhy Thangal was one of the pioneering leaders. Bafakhy Thangal was the founder treasurer of the Samastha Kerala Islamic Education Board which was formed in 1952. Himself an Islamic Scholar, he was a member of 40 member Mushavara of Samastha Kerala Jamiyathul Ulama the uppermost body of the Ulamas of Kerala. He was a bridge between traditional values and modernity.
Bafakhy Thangal was undisputed leader with unimpeachable integrity. He was widely acclaimed for his steadfastness to keep the word and to fulfill the promises made. In politics and social life he stood for lofty ideals. He respected others and was respected by others. He was soft-spoken but bold to the core. He showed how one should live in a pluralistic society with Islamic principles and way of life by gaining confidence and acceptance of others.
He was welcomed everywhere. Smt. Indira Gandhi, the Prime Minister of India was personally close to him. She regarded him as a wise leader and gave attention to his opinions. Shri. V.V. Giri, the President of India, cherished the friendship with Bafakhy Thangal as his personal pride.

103271total visits,18visits today
Section subtitle
Latest News
Nothing Found
It seems we can't find what you're looking for. Perhaps searching can help.